Fabulous Floors New Jersey is proud to offer quality hardwood floor resurfacing services in your area! It's inevitable that your hardwood floors will take on wear and scratches over time. For many homes, complete hardwood refinishing is the only option. However, hardwood resurfacing is a more affordable alternative for floors with less damage. At only $0.99 per square foot, beautiful floors are within your reach with hardwood floor resurfacing from Fabulous Floors New Jersey!
Fabulous Floors New Jersey Hardwood Resurfacing
Although both our hardwood resurfacing and hardwood refinishing services are virtually dust and odor free, hardwood resurfacing restores the luster of your wood floors without the mess typically associated with hardwood refinishing. The ideal floor for resurfacing is one with minimal wear and light scratches and the stain mostly intact. Your floors should be in good shape overall, with minimum warping and damage.
Hardwood resurfacing doesn't require the same labor, time, and cost as hardwood refinishing. Our technicians in New Jersey are professional and qualified in their field, and will have your project complete within 1-2 days.They start by gently sanding away any scratches on your hardwood floors, then apply a coat of polyurethane finish to protect your floors against future damage and make them really shine!
We are GREENGUARD Certified, meaning all of our services including hardwood resurfacing are safe for your family and the environment. And at $0.99 per square foot, hardwood resurfacing from Fabulous Floors New Jersey is the most cost effective way to add value to your home.
Click here to get started on your dream home today!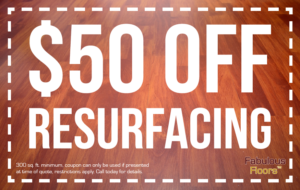 Our Hardwood Floor Resurfacing Process:
Fits within your budget. Hardwood resurfacing saves you money, especially compared to traditional refinishing.
Adds instant value to your home. This will be a great selling point if/when you decide to move.
Takes very little time. Most Fabulous Floors® resurfacing treatments are completed within hours.
Provides a long lasting finish. Choose between gloss, semi-gloss, or satin polyurethane.
Protects your floors against foot traffic and keeps them cleaner longer with a quality sealing coat.
Prevents allergens. Our process is dust-free, meaning there is no mess or airborne dust particles during or after our hardwood floor resurfacing service.
Removes scratches from your floors by sanding, without damaging the wood.
Gives your peace of mind. We do all of the hardwood resurfacing work, saving you from doing it yourself.
Relieves the stress of living with worn out hardwood floors. You'll never have to settle for less again!
Allows you to get back to your life quickly. There is absolutely nothing to clean-up after we leave.
Receive a free price quote today and also browse the various coupons we offer. We look forward to working with you and helping you fall in love with your hardwood floors again!
| | |
| --- | --- |
| | Call us today to get started on your hardwood resurfacing project! |